Our products
Ultralam™ production implements state-of-the-art technology – continuous pressing with microwave preheating which improves bonding quality and gives new, uniform, high strength material. Another advantage of this technology is the possibility to produce LVL billets of any length. Coniferous wood species are used for Ultralam™ production.
Annual capacity of pellet line
60,000t
Annual production of LVL
150,000m³
Annual production of OSB
500,000m³
Annual home building
40,000m²
Modern Lumber technology Ltd. is engaged in production of high strength laminated veneer lumber – Ultralam™. The company markets reliable, cost-effective and easy-to-use material for construction of environmentally friendly and energy saving houses, agricultural and sports facilities, renewal of old housing stock, construction of attics.
The News
February 8, 2018
PJSC TALEON represented by its subsidiary company Taleon Trading Ltd., the official trade representative of Taleon Terra and Taleon Arbor Production Plants, is happy to offer new innovative products, i.e. prefabricated modular homes, for your consideration. Each prefabricated house is subjected to in-plant fit-up assembly tests, loaded into a 40-feet container and shipped to […]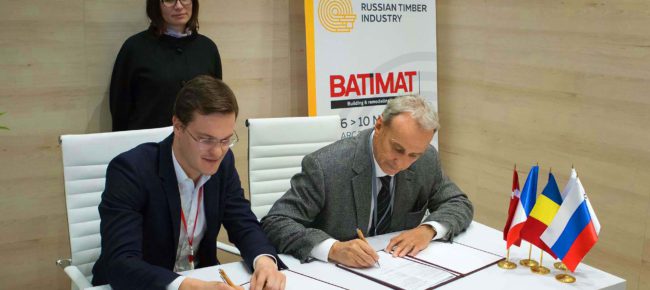 November 9, 2017
Starting November 06, 2017, Nord Villepinte Exhibition Center, Paris, is hosting the main event of the French and European construction industry, i.e. BATIMAT building industry's leading international trade show. BATIMAT is a global expert and observer in the field of advanced industry-related issues and innovations, and gathers together the largest representatives of the construction sphere as […]
November 8, 2017
«Taleon Terra» Plant has once again held its regular professional skills competition – «Production Leader». As is already a tradition, the winners were awarded a two day's family trip to Saint Petersburg, including visits to the Hermitage, St. Isaac's Cathedral and the Church of the Savior on Spilled Blood. «Taleon Imperial Hotel», located in the historical 18th  […]
Environment matters to us

Environmental
sustainability
We sustain forest resources through monitoring the woodlands, cutting diseased trees, protecting logging sites from poachers.

Modern
techniques
We implement modern construction techniques in the area of reliable and environmentally friendly houses.

Environmental
protection
The process of LVL production is one of the most rational ways of wood processing which allows to save forest resources.
You can reach us around the globe
Russia, Europe, USA, Australia, Middle-East, Japan, Taiwan, Republic of South Africa